Shopping Cart
Your Cart is Empty
There was an error with PayPal
Click here to try again
Thank you for your business!
You should be receiving an order confirmation from Paypal shortly.
Exit Shopping Cart
Yoga 4 Everybody in Arnhem

Yoga for everybody and every body
Hatha yoga
Kinderyoga
Yoga in het park
Fast pilates
Holistische reiki
Luisterkind

| | |
| --- | --- |
| Posted on November 15, 2016 at 7:35 AM | |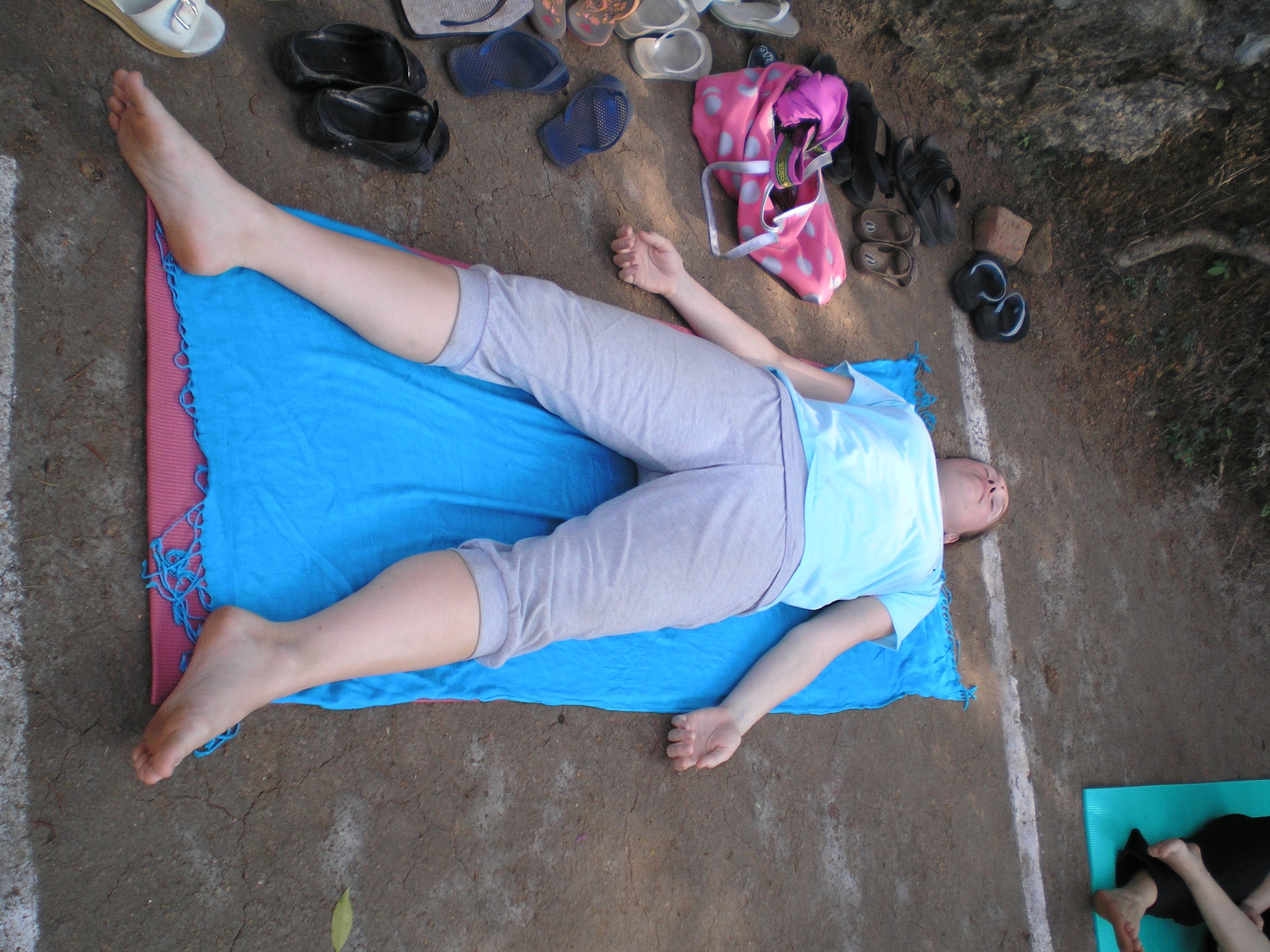 Savasana, de houding voor de eindontspanning en yoga nidra

Yoga nidra
Tijdens de eindontspanning van de yogales gebeurt het weleens dat mensen in slaap vallen. Dat is niet de bedoeling, maar vaak wel even lekker. Door vaak te oefenen lukt het steeds makkelijker om wakker te blijven en dan kan het nog gebeuren dat je even weg bent of zelfs in slaap valt. Ook bij de oefening yoga nidra hoor je wakker te blijven, wat grappig is want 'nidra' betekent slaap. Deze ontspanningsoefening duurt langer en gaat dieper dan de gewone eindontspanning.
Bij yoga nidra raken beide hersenhelften meer met elkaar in harmonie. Wat er zich aan ontspanning afspeelt in de hersenen in een yoga nidra is te vergelijken met een paar uur slaap. Dit is natuurlijk geen vervanging voor echte slaap, maar je kunt je vast wel voorstellen hoe goed het voor je hersenen is om zo diep te ontspannen.
Veranderingen in je bewustzijn
Je raakt tijdens de nidra in een bewustzijnsstaat die tussen slapen en waken in ligt. De hersenen staan dan maximaal open voor boodschappen. Dat kun je benutten als er iets is in je leven wat je wil veranderen. Aan het begin van de nidra stel je een voornemen vast dat je in laat werken tijdens de oefening. Zo'n voornemen heet een 'sankalpa'. Dit kan bijvoorbeeld zijn dat je gezonder gaat leven, of je ergens in gaat ontwikkelen of stopt met roken. Als deze nieuwe overtuigingen in de hersenen worden opgeslagen kun je ze makkelijker uitvoeren in het dagelijks leven. Het zijn eigenlijk wensen, maar geen materiële wensen.
Vorige week zaterdag volgde ik een bijscholingsdag over de yoga nidra. De dag begon met een korte nidra-sessie van 10 minuten, waarna ik me fit en uitgerust voelde. De theorie die volgde kon ik daarom goed opnemen. Maar het in praktijk brengen lukte niet helemaal want van de lange sessie die volgde heb ik een deel gemist. Ik viel namelijk in slaap. Opeens hoorde ik de docent zeggen je sankalpa te herhalen en ik vroeg me af wanneer de eerste dan was geweest. Waarschijnlijk toen ik sliep.
Wakker blijven
De docent benoemt lichaamsdelen en daar ga je met je volledige aandacht heen. De lichaamsdelen corresponderen met een bepaald deel van je hersenen en daarom is het belangrijk dat de oefening in deze volgorde wordt gedaan. Val je toch in slaap, dan is dat geen drama want je krijgt het toch mee alleen op een ander bewustzijnsniveau.
Ik heb voorheen al vaker een nidra gedaan en vond het altijd heel ontspannend. Soms bleef ik wakker en soms niet. Als je dit vaker doet helpt dit je om beter in en door te slapen ('s nachts, niet tijdens de yogales), kun je je makkelijker ontspannen en je vergroot je bewustzijn. Verder helpt de nidra je om oude gewoontes op te lossen, versterkt het je zelfvertrouwen en geeft het je een tevreden gevoel. Ik ga de nidra vaker beoefenen en ermee experimenteren om het vervolgens toe te passen in mijn lessen. Dus wie weet lig jij over een poosje wel in mijn les te 'yoga-slapen'. Wel wakker blijven, hoor.
Bewaren
Bewaren
Categories: ontspanning, nidra
/